Image Center
ShowCase Image Center runs on your own hardware, can store millions of images in their original DICOM format, and provides local, in-office and remote access to studies using our ShowCase Premier and ShowCase Viewer for iPad software. It ships licensed to accept images from two imaging devices (DICOM SCUs). Additional imaging device licenses are available for purchase, up to fifty.
Use ShowCase Premier to access diagnostic quality studies from the Image Center, either locally, over your LAN, or remotely, over slower VPN connections. Background delivery is available over internet connections, reducing wait times.
Download the free ShowCase Viewer for iPad from the Apple App Store for access to high quality images and clips in a simple, streamlined app. Store studies local on the iPad for access when you're off-network.
Image Center logins and passwords leverage your existing Windows logins and passwords to minimize user management. Studies can be moved or copied into separate Image Directories, with access configured on a per-login basis, allowing your physicians to have their own 'inbox'.
The Image Center is a simple yet powerful DICOM storage archive and SCP, yet unlike conventional PACS, the Image Center is easy to install, configure, and use.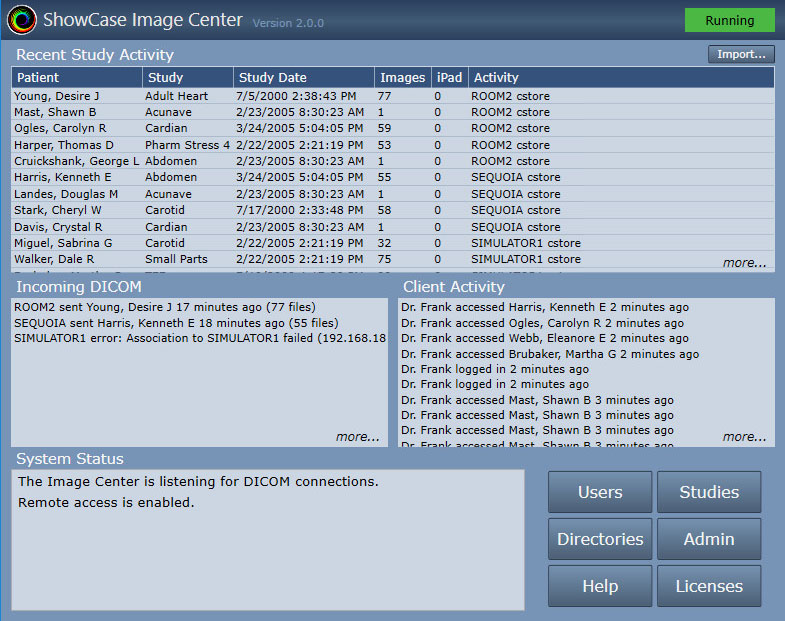 (All PHI in this screen shot is fictitious)