ShowCase and EncaptureMD Integration
ShowCase image viewers integrate with EncaptureMD clinical reporting systems to provide features that can help increase your efficiency and quality of care.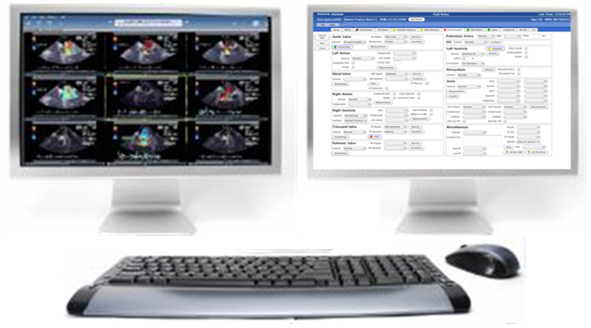 View your reports and images side by side during interpretation of cardiac or vascular studies.
Select key images in ShowCase and transfer them to EncaptureMD reports.
ShowCase automatically transfers measurement data from ultrasound machines that support DICOM Structured Reports, saving you time and reducing transcription errors.
EncaptureMD provides a web based clinical reporting system with built in features to support easy production, sign off and delivery to referring physicians. (View a sample normal report here.)
Working on accreditation? ShowCase provides widely used study submission CDs/DVDs and EncaptureMD helps you assure production of complete and uniform reports as required.
Learn more about ShowCase / EncaptureMD integration features and the types of reports available on the EncaptureMD web site.
What do you need to get the ShowCase / EncaptureMD solution?
ShowCase release 5.1.4 or later
An account with Flexible Informatics to interpret your studies using EncaptureMD.
Dual monitor configuration recommended. Firefox Web Browser recommended.
To learn more about EncaptureMD reporting and arrange for a demonstration visit the EncaptureMD Web Site or phone 800-399-7035